Tourist visa
A primary tourist visa is automatically issued to Russian tourists upon their arrival in the UAE. This is a multiple-entry visa that allows a total stay of 90 days within a six-month period. Tourist visas can only be extended while outside of the UAE. The processing time for a new visa is 3–5 business days.
What is included in the service?
Assistance with the extension of a tourist visa.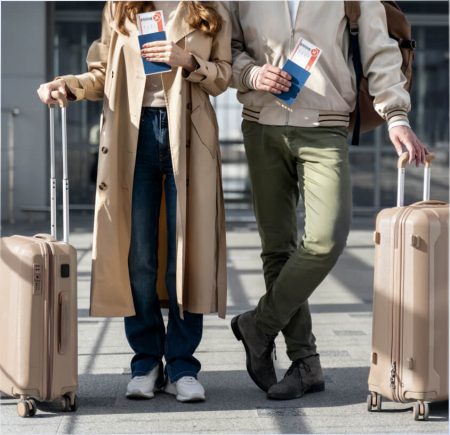 The process of obtaining a visa
Obtaining an entry permit

You give us the documents, we verify, translate, get them legally certified and forward them to the relevant ministries. Simultaneously, we arrange an entry permit for you, which remains valid for 2 months. If you are abroad when the permit is issued, you must arrive before the permit expires.

Changing visa status

The moment you set foot in the UAE, a specific status is allocated to you. In most cases, you can enter the country either as a tourist or a resident. If you are abroad when your entry permit is issued, your status will automatically change to "non-tourist" upon border crossing. If your entry permit is issued while you are already in the UAE, the status is changed manually.

Undergoing a medical examination

Undergoing a medical examination is a compulsory step in the process of applying for any kind of visa. The medical examination includes blood analysis and fluorography.

Submission of biometric data

Submission of biometric data is yet another obligatory step. This procedure must be completed in the UAE. Essentially, you just need to provide your fingerprints.

Issuance of a resident visa

All paperwork is coordinated through the immigration service. Provided everything has been prepared accurately, the ministries will give their approval and issue the visa.

Acquisition of an Emirates ID

Once your visa is issued, you will be given a plastic card with a unique identification number for accessing services within the UAE.
Our Clients' FAQ
Currently, single-entry and multi-entry tourist visas are available in the UAE.
A single-entry visa grants you a one-time entry into the country. Once you exit the country, you cannot re-enter, even if the permitted stay days have not been fully utilized. The price for a visa:
starts at $290 for 30 days,
starts at $350 for 60 days.
A multi-entry visa operates similarly to a free visa given upon arrival in the UAE. It allows unlimited entries and exits within 180 days, with the remaining days paused upon departure. The price for a visa:
$500 for 30 days,
$650 for 60 days.
Cases
What we did
Formed a company
Helped acquire a visa within five working days
Opened an account within a month
Hired 20+ employees and assisted with their family visas
Continue to provide support to this day

Learn more

Our work, from establishing the company to fully employing the staff, took approximately a month and a half. The first Dodo Pizza location opened in Dubai in January 2023. We are very happy for them and continue to provide support by answering their questions in detail. This experience was also beneficial to us. Through our collaboration with Dodo, we realized that we can offer comprehensive legal support on all matters related not only to relocation but also to conducting business in a Muslim country.

Learn more
Write to us and we will be happy to help you